The Boat!
This slideshow requires JavaScript.
The amazing, rare, gorgeous Condor 40 trimarans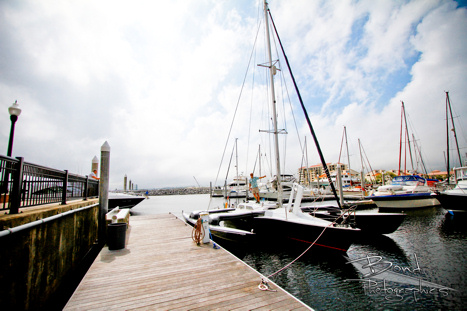 The most beautiful boats to ever sail the seven seas, and the fastest production sailboat ever, with a top speed of 45+ mph (ordinary sailboat's top speed: 8 mph), the futuristic trimarans were designed by Condor Limited co-founders Phil Herting and Mick Price, and built in Annapolis from 1985 to 1991. There are only twenty-one Condor 40's in the world, making them a very rare boat. Indeed, the first Condor 40 was named "Endangered Species."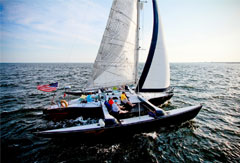 A Ferrari on the water, like something out of Star Wars, turning heads wherever they go, Condor 40's are 40 ft. long, 28 ft. wide, bullet-proof, and built to take anything that Mother Nature can dish out. They were designed to be incredibly stable to survive racing in 40-50 ft. seas the ocean races – including "around the world" races with only 1 or 2 crew members.
And its their incredible stability that makes them safer and more fun for everyone from kids to grandparents! Sailing on a Condor, there's none of the typical twisting, topsy-turvy sailboat/powerboat motion. And no leaning = no seasickness! If you avoid boating because you get seasick, then this is the fun, relaxing experience of a lifetime you've been waiting for. We've never had anyone get seasick: that includes women who are 2 to 8 months pregnant.
Condor 40′s are roomy. On ordinary sailboats/powerboats it's like riding the bus because you're stuck in your seat in the cockpit almost the entire time. But on a Condor — with her two roomy side-decks, huge bow, and dual pontoons — you have plenty of room to leisurely recline, stretch out in super-comfy seats, or easily explore the boat, lazily dangle your feet in the water, get splashed, and watch the mesmerizing water fly by.