Waterfront Reception Venues
Waterfront Wedding Reception Venues!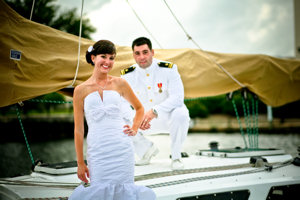 Picture this: the romantic, magical, unforgettable Sailboat Wedding that you've dreamed of; and THEN sailing back to shore, where you are enthusiatically and happily greeted by your joyous family and friends! Dreams do come true, and Pensacola has several great Wedding Reception venues, all of which will perfectly complement your romantic and unique Sailboat Wedding with Condor Sailing Adventures!
Great Venues in downtown Pensacola!
Fish House and Atlas Restaurants
600 South Barracks Street
Pensacola, Florida 32502
(850) 470-0003
Jaco's Bayfront Bar and Grill
997 S. Palafox St.
Pensacola, FL. 32502
(850) 432-5226
Palafox Wharf Waterfront Banquet Wharf
617 South Palafox Street
Pensacola, FL 32502
(850) 748-5102