Customized Cruises
Customized Cruises on Our Amazing Condor 40 "Dare II"!
The Fish House Restaurant -- Lunch and Dinner Cruises
$449 for a Private Two-Hour Cruise (up to 6 people; lunch/dinner is separate)
Departing from the dock of Pensacola's finest, and most classy, restaurant. Enjoy a relaxing, fun, Two-Hour Cruise, while watching for dolphins, sunsets, or both! Then walk off our gorgeous Condor trimaran, up the ramp, and you're all set to enjoy the world-famous Fish House cuisine.
Mornings with the Blue Angels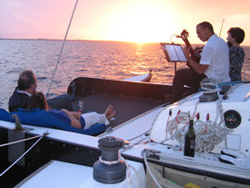 Just $85 per person
Departs Most Tuesdays and Wednesdays at 11:00am. Skip the crowds, the traffic, and the drive. Instead, come enjoy a leisurely, morning sail on Pensacola Bay, just off the Navy base, while watching the world-famous Blue Angels demonstration team practice overhead.
The Ultimate Romantic Sunset Cruise
Just $799 for the evening of a lifetime…
It starts with an intimate, private, Two-Hour Sunset Cruise on our gorgeous, roomy Condor 40 trimaran, Dare II, while enjoying a mesmerizing musical performance by a professional violinist and guitarist duo. Feel free to request your musical favorites, as their repertoire ranges from classical to Beatles to Gypsy Kings to "Moon River." The combination of a relaxing sunset sail and an intimate musical performance makes for a romantic evening you will always remember and cherish.
Magical Moonlight Cruise
Just $95 per person
A truly amazing evening! When the moon is full, we set sail just before sunset and as you are enjoying the sunset's afterglow, it gets even better as the moon majestically rises up into the dark sky, casting its reflection on the waters of Pensacola Bay. It's definitely an experience you'll always remember.